On August 23rd, Painting Academy for Friendly Contact held the opening ceremony of the Exhibition of Calligraphy and Painting Works for "Celebration of the 95th Anniversary of the CPC and the 80th Anniversary of the Victory of the Red Army's Long March" in Beijing Yan Huang Art Museum. Xin Qi, vice chairman of the China Association for International Friendly Contact, Liu Dawei, director of the Art Committee of the PAFC, and officials from the Chinese Federation of Literary and Art Circles, the Chinese Association of Artists, and the ChineseAssociation of Calligraphers, as well as more than 40 calligraphers and painters and representatives from relevant departments attended the ceremony and visited the exhibition.
At the opening ceremony, Vice-chairman Xin Qi and Director Liu Dawei delivered speeches, respectively. They fully affirmed the achievements that the PAFC has made over the past seven years, spoke highly of the diligent work of the calligraphers and painters, and stressed that the PAFC must further implement the spirit of General Chairman Xi's speech at the "Literature and ArtSymposium", keep in mind the requirement of "staying true to the mission while marching forward", carry forward the spirit of the Red Army during the Long March, and create more excellent works that communicate the Chinese values and the Chinese cultural spirit for the realization of the Chinese dream for great rejuvenation.
The exhibition will last 4 days and features 70 exquisite calligraphy and painting works created by the artists of PAFC. Deputy Secretary-general Zhou Xinzheng was present at the event.
Xin Qi, vice chairman of the CAIFC and deputy director of the PAFC, delivering a speech at the opening ceremony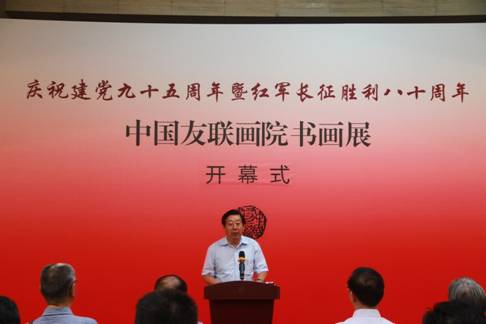 Liu Dawei, chairman of the Chinese Association of Artists, delivering a speech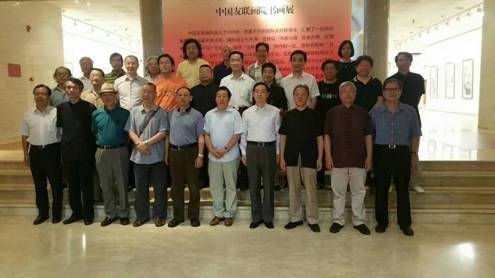 A group photo of the PAFC officials with the artists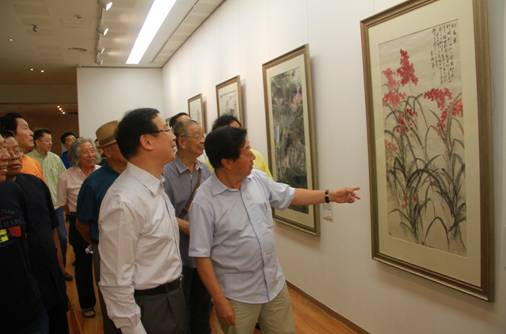 PAFC officials and the artists appreciating the exhibition