On March 30th, Center for Peace and Development Studies (CPDS) held a special seminar about "Surrounding Security Trends of China" and invited more than 20 experts from the Chinese Academy of Social Sciences, China Institute of International Studies, China Institute of Contemporary International Relations, China Foreign Affairs University, National Defense University and Academy of Military Sciences to have an in-depth discussion about national security strategy, hot issues and the building of "One Belt One Road". Xin Qi, vice chairman of the China Association for International Friendly Contact (CAIFC), delivered a speech and Zhou Xinzheng, deputy secretary general of CAIFC, hosted the opening ceremony.
Vice-chairman Xin Qi pointed out that there have been more and more factors affecting the surrounding security situation of China, including political, military and economic ones. Especially after the international financial crisis, major developed countries are eager to shift the burden of the crisis; the conflict between global supply and demand intensifies; the Taiwan issue is getting more complicated. At present, China has entered the key and decisive phase of building a moderately prosperous society and realizing the great rejuvenation of the Chinese nation, which requires a stable and good surrounding security environment.
The experts agreed that now the US accelerates the "Asia-Pacific rebalancing" strategy, continues to strengthen the containment to China, and provokes conflicts around the South China Sea and other hot issues; Japan intensifies the constitutional amendment and military expansion, showing clearer intention to curb China by working with the US; some countries rely on the support of the US and Japan to take more and more actions against China's sovereignty and interests; the US and South Korea insist on the pressure policy while the DPRK continues to make nuclear tests, making the situation on the peninsula more sensitive and fragile; Tsai Ing-wen still clings to an ambiguous attitude towards the "1992 Consensus" and the situation in the Taiwan Strait is not optimistic. In short, the surrounding security situation of China is becoming increasingly complex and will impose more risks and challenges on the national security and development of China. On the other hand, the parties concerned will further deepen mutual dependence and are more motivated to address common challenges through cooperation. Their willingness to control disagreements and conflicts is increased, and the pursuit of peace and development is still the mainstream. In particularly, China adheres to the peaceful development strategy and the philosophy of amity, sincerity, mutual benefit and inclusiveness, and will vigorously promote the building of "One Belt One Road" and the "community of common destiny for all mankind". These actions will contribute to the stability and prosperity of the surroundings.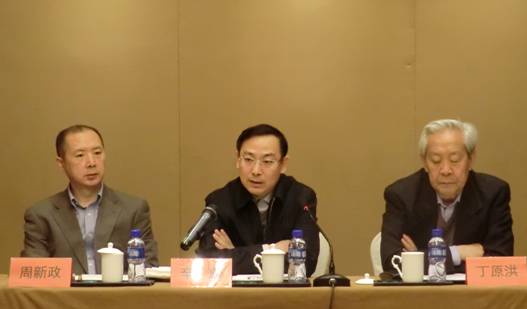 Vice-chairman Xin Qi delivering a speech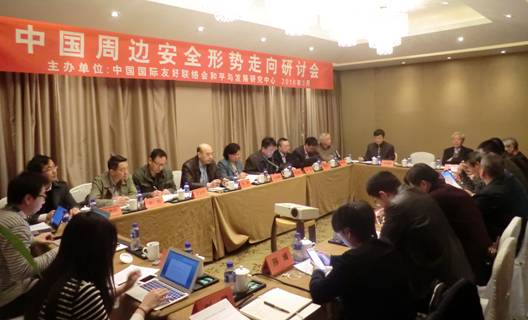 A photo taken at the seminar