On January 29th, the Peace and Development Research Center of the China Association for International Friendly Contact (CAIFC) held an academic symposium around "Opportunities and Challenges from Interconnection of Transportation Infrastructure between China and Thailand" jointly with the National Institute of International Strategy of China Academy of Social Sciences (CASS). Nearly 30 experts and scholars from the National Institute of Thailand, Feasibility Commission of Kela Canal in Thailand, and the CASS, China Institutes of Contemporary International Relations, Peking University, Yunnan Academy of Social Sciences, and Institute of China Development Bank had in-depth discussions around opportunities and challenges from the construction of China - Indochina economic corridor and the Sino-Laos-Thailand railway. Xin Qi, vice chairman of the CAIFC, attended the opening ceremony and delivered a speech. Wang Xiaowei, director of the Peace and Development Research Center, participated and chaired the discussion.
Vice-chairman Xin Qi said that the Southeast Asia has always been an important hub of maritime Silk Road and that the Sino-Laos, Sino-Thailand, and Sino-Indonesia railway projects have outlined the "main skeleton" of the trans-Asian railway in the South East and acts as a go-between for interconnection within the region. Vice-chairman Xin Qi indicated that this year marks the beginning of the "13th Five-year Plan" of China and witnesses the construction of "One Belt One Road" by China and countries along the road. He hoped that experts and scholars from China and Thailand play their own advantages, strengthen communication, and actively put forward suggestions to provide intellectual support for the construction of "One Belt One Road".
Zhou Xinzheng, vice secretary-general of CAIFC, and Cen Song, director of Asian Department, participated in the related activities.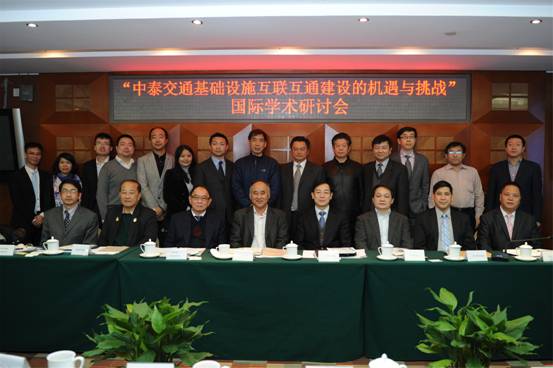 A group photo of the scholars