On November 20th, a seminar on "2015 Retrospect and Prospect of International Affairs" was held in the Center for Peace and Development Studies ("CPDS"). Experts and scholars who attended the seminar had an in-depth discussion around the new developments in international and regional spheres, new trends in the relations between big powers, and new changes in hot issues over the year.
The experts and scholars agreed that complex and profound changes occurred to the international and regional patterns in 2015, with increased competition between the great powers, emerging hot issues, instability in the Middle East and the South China Sea, and the more rampant terrorism; developed economies still struggled with weak recovery, emerging economies showed slow growth, and the global economic outlook remained blue; a minority of Western powers hoped to continue to dominate global affairs, running into a conflict with the request of the majority of emerging and developing countries for more rights and greater voice; the fight over how to build an international political and economic order would be more intense.
The experts and scholars pointed out that more unstable and uncertain factors will continue to affect international and regional affairs in the near future. The world will not be peaceful, but interdependence among countries will further be deepened, the motive of cooperation to address common challenges will be strengthened, and the willingness to control disagreement and conflicts will be enhanced. Peaceful development will remain the theme of the times.
The seminar was chaired by Wang Xiaowei, director of the CPDS, and more than 10 contract research fellows in Beijing were invited to attend the seminar.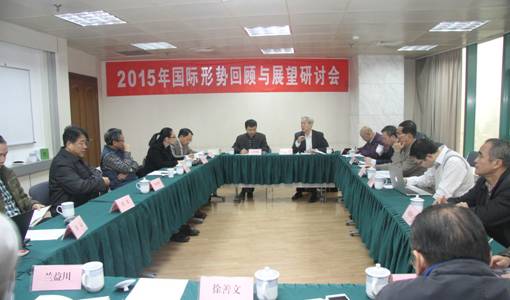 A photo taken at the site of the seminar