On November 12th, scholars of the Center for Peace and Development Studies ("CPDS") had a seminar with Neil, a British senior researcher, and Chaplow, an American senior researcher, from International Institute for Strategic Studies (IISS). Both sides had an in-depth discussion on Sino-Russian relations and the construction of "One Belt One Road".
The Chinese scholars pointed out that the Sino-Russian friendship has a long-term solid foundation. In recent years, China and Russia have maintained close communication and coordination in international and regional affairs, and the bilateral cooperation in economy, trade, energy, technology and humanities has been deepened, promoting the development of Sino-Russian strategic cooperative partnership. The two countries have decided to connect the economic zone along the Silk Road with the construction of Eurasian Economic Union, an initiative that will greatly promote the infrastructure construction and overall economic development of the member states of Shanghai Cooperation Organization.
The foreign scholars believed that countries, including those in Europe and America, all hope to benefit from the development of China. The construction of "One Belt One Road" is a strategic initiative that will facilitate common development and achieve win-win among the countries along and has attracted more and more attention from European countries. They believed that the construction would bring more opportunities to Europe.
The seminar was chaired by Wang Xiaowei, director of the CPDS, some of the council members from the China Association for International Friendly Contact (CAIFC) and experts from Peace Development Fund for China Foundation for International Studies were invited to attend the seminar.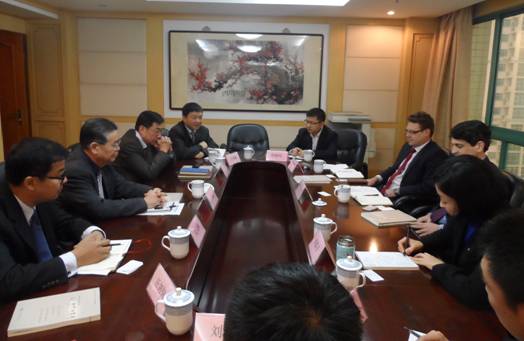 A photo taken at the site of the seminar