On February 9th, Zhou Xinzheng, deputy secretary-general of the China Painting Academy for Friendly Contact (CPAFC), met with a delegation of researchers on "Cooperation Course of China and East Asian Regions" from Japan. The delegation members are from famous universities including University of Tokyo, Doshisha University, Tokyo Institution of Technology, Kyushu University, and University of Tsukuba.
Deputy secretary-general Zhou introduced about the 18th CCP Fourth Plenary Session and explained the diplomacy featuring "amity, sincerity, mutual benefit and inclusiveness", the new security concept of Asia, and "One Belt and One Road", important concept proposed by Chairman Xi Jinping. He hoped that the Japanese scholars can view and introduce the social and economic development in China objectively, fairly, and rationally by taking advantage of the opportunity to have a field study in China and release positive energy to improve and develop the bilateral relations and maintain the peace in the Asia-Pacific and the world. The Japanese visitors said that they were more aware of the importance of developing healthy Japanese-Chinese relations after visiting China and communicating with the Chinese people and that they were willing to further strengthen cooperation with the CAIFC and other Chinese friendly organizations and play their own advantages to contribute to the strategic and mutually beneficial relations between China and Japan.
Wang Xiaowei, director of the Peace and Development Research Center, and other relevant personnel attended the meeting.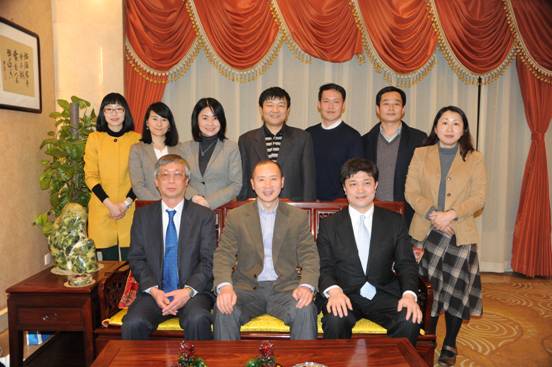 A group photo with the Japanese scholars