Upon the invitation of China Association for International Friendly Contact (CAIFC), the Japan-China Friendship Association (JCFA) came to China for visits and exchanges from October 9 to 15. CAIFC's Vice President Xin Qi met with Shibuya Toshio,head of the JCFA delegation, in Beijing on the evening of October 9.
Xin Qi spoke highly of the positive efforts made by JCFA and its president over the years to promote people-to-people cooperation and exchanges between China and Japan. He pointed out that in the past two years, the 45th anniversary of the normalization of China-Japan relations and the 40th anniversary of the conclusion of Sino-Japanese Treaty for Peace and Friendship were two important opportunities for improving bilateral ties. Going forward, the root of China-Japan friendship rests with the people, and the future of bilateral relationship lies in their hands, he said, hoping the two sides will innovatively exert their role as the bond of people-to-people friendly exchanges and make greater contributions to the friendship between China and Japan in the new era. Shibuya Toshio congratulated China on the 70th anniversary of its founding, adding that JCFA will continue to deepen the pragmatic cooperation with CAIFC and play a positive role in promoting exchanges and deepening friendship between Chinese and Japanese peoples.
With CAIFC's assistance, the Japanese delegation visited Beijing, Luoyang and Xi'an and had exchange events with relevant local organizations and groups.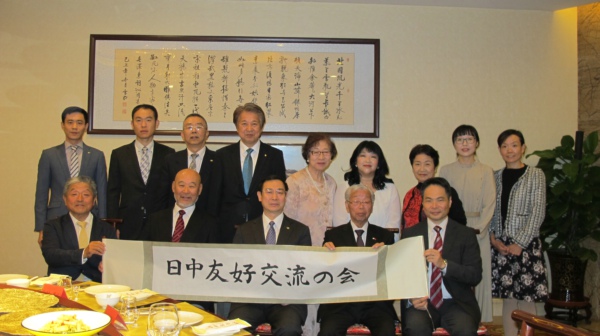 Group photo