On the evening of November 10, President Chen Yuan met with former US Secretary of State Dr. Kissinger at Diaoyutai State Guesthouse. Fu Ying, Deputy Director of the National People's Congress Foreign Affairs Committee; Tang Wensheng, former Vice Chairman of China Soong Ching Ling Foundation and former adviser to China Association for International Friendly Contact (CAIFC); He Liliang, wife of Mr. Huang Hua and former adviser to CAIFC; Qin Xiao, former Chairman of China Merchants Group; Wang Boming, Editor-in-Chief of Caijing magazine; Xin Qi, Vice President of CAIFC; Li Haoyu, Secretary-General of CAIFC attended the event. Old friends renewed their friendship, reminiscing the past, and discussing plans for the future. They conducted in-depth exchanges on consolidating and developing the relations between China and the United States in the new era.
For starters, President Chen extended a warm welcome to Dr. Kissinger, an old friend of the Chinese people. He pointed out that the China-US relationship has experienced 40 years of ups and downs, and generally maintained a healthy development trend. He firmly believes that both sides can solve the existing problems through works and efforts, and stressed that China must develop itself while giving consideration to the world in the course of its development, so that it can become more welcomed by and bettered suited to the development of the rest of the world.
Dr. Kissinger stated he was pleased to have talks with President Chen and old friends, believing that the US-China relationship is becoming increasingly more important in the world, the difficult period of several months is now over and only through cooperation can we achieve peace and prosperity. The bilateral relationship will never be like that of before, nor will there be a full confrontation, and can form a new paradigm in front of the world. He hopes that many more friendly people will step up to jointly promote the healthy and stable development of US-China relations.
Dr. Kissinger visited China at the invitation of the Chinese People's Institute of Foreign Affairs. His deligation included Joshua Cooper Ramo, vice chairman of Kissinger Associates; and Meishan, an adviser.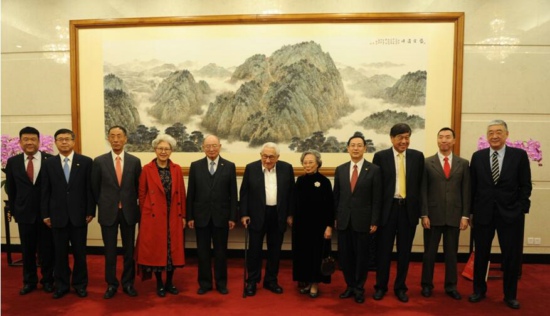 Group photo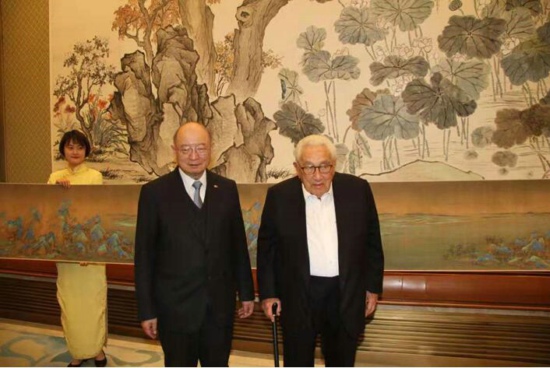 Exchange of gifts