On October 31, China Association for International Friendly Contact (CAIFC) and the Chinese Weiqi Association Tournament, and China Qi-yuan jointly hosted the finals of 20th "Agon Shukiriyama Cup" China Go Open Tournament Final in Beijing. Xin Qi, Vice President of CAIFC, attended the event and issued certificates to the champion Gu Xinhao and runner-up Fan Tingyu. Before the game, Vice President Xin met with Shi Xuejun, the director of the Chinese Affairs Bureau of Agon Shu, and his colleague. The two sides exchanged views on fostering cooperation and exchanges.
This Go competition, co-organized by China Central Television (CCTV), was broadcast live by the news media in China and Japan. The Chinese champion Gu Xinhao, a 9 dan player, will compete for the championship with an 8 dan player Ichiriki Ryo, the Japanese champion, in Kyoto, Japan on December 8th.
The "Agon Shukiriyama Cup" Go Competition was initiated and exclusively sponsored by Seiyu Kiriyama, the late director of the Japanese Agon Shu, in 1999. It is to be held simultaneously in China and Japan and has become the largest and highest-level Go competition in the two countries. The event plays a positive role in promoting friendly cooperation and exchanges between the Chinese and Japanese Go circles and enhancing mutual understanding and friendship between the peoples.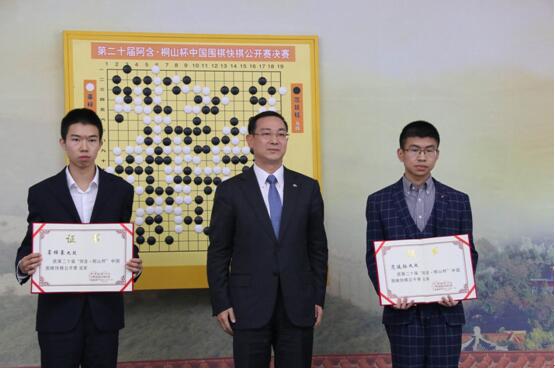 Vice President Xin Qi issues certificates to the champion and runner-up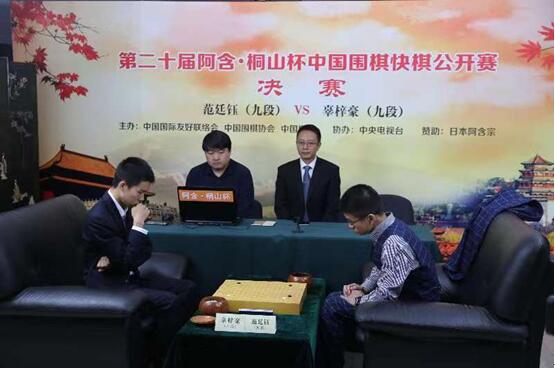 Scene of the finals