The Fifth Nishan Forum on World Civilizations (Nishan Forum) was held from September 26th to 28th in Qufu, Shandong. Xin Qi, Vice-President of China Association for International Friendly Contact (CAIFC), attended the forum and presided over the third keynote speech, "Different Interpretations of Human Civilizations". Speakers were scholars and researchers from foreign countries including the United States, Hungary, Pakistan, and Indonesia and from China's Shandong University and the Confucius Research Institute.
During the event, Vice-President Xin met with Baek Goon-Gi, Mayor of Yongin, South Korea, and his party. Xin congratulated Baek on being elected as the mayor, and praised him for his long-term efforts to pursue peace and security in Northeast Asia and his notable contributions to promoting friendship, cooperation and exchanges between China and South Korea. Xin hoped that, under Baek's leadership, Yongin will further enhance its economic and social development and continue to play an important role in pushing forward the strategic cooperative partnership between China and South Korea and in promoting non-governmental economic cooperation and people-to-people exchanges. Baek expressed his willingness to strengthen cooperation and exchanges with CAIFC, introduce Confucian culture and thought to Yongin, and remain committed to promoting China-South Korea friendship for a new era, as well as promoting economic and cultural cooperation and exchanges between the two countries. The Shandong Association for International Friendly Contact (SAIFC) arranged a trip for Baek and his delegation to the Mansion, Temple and Cemetery of Confucius in Qufu and to Mount Tai.
Vice-President Xin also met with CAIFC's old friend Ash Narain Roy, Director of New Delhi Institute of Social Sciences, and encouraged Roy to continue to play a role in fostering friendship, cooperation and exchanges between China and India.
Zhao Jun, Deputy Secretary-General of CAIFC, and Zhou Min, Vice-President of SAIFC, were present during the meetings.
This year's Nishan Forum was jointly sponsored by China's Ministry of Culture and Tourism, Ministry of Education, and the Shandong provincial government, and was organized by the forum committee and the Jining municipal government. With the theme of "Common destiny, integration and connectivity: the integration of civilizations and a community of common destiny for mankind", the forum saw high-end dialogues, keynote speeches, dialogues between mayors of cities involved in the Belt and Road Initiative, one women's forum and various group dialogues. More than 500 guests including leaders, scholars, experts, and journalists from China's mainland, Hong Kong and Taiwan, as well as from 25 foreign countries and international organizations, attended the forum.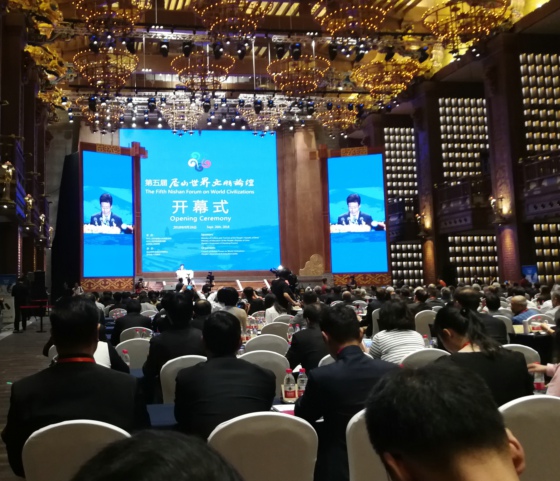 The opening ceremony of the Fifth Nishan Forum on World Civilizations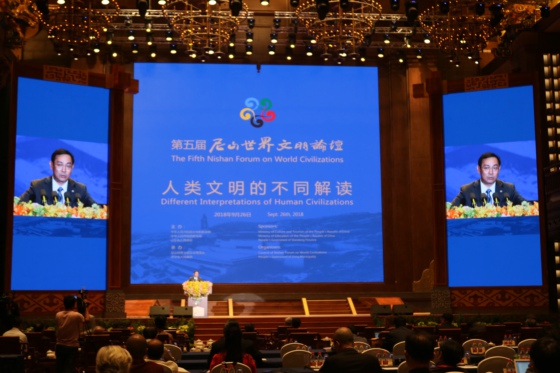 Vice-President Xin presided over a keynote speech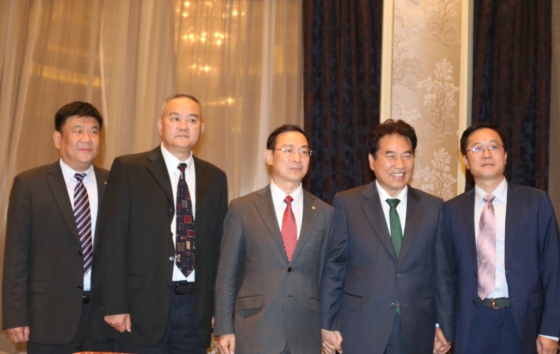 Vice-President Xin met with Mayor Baek Goon-Gi of Yongin, South Korea