On Oct. 19th, Vice-president Xin Qi met with Japan-China Friendship and Exchange Association of Japan led by its Vice-president Okamoto Masayuki.
Vice-president Xin expressed appreciation to the association for its long term effort to promote Sino-Japanese communication. He said non-governmental exchanges were the bridge and bond to improve and develop Sino-Japanese relations and hoped that the association could play a bigger role in promoting the friendly relations between China and Japan. He pointed out that this year marked the 45th anniversary of the normalization of relationship between China and Japan, and next year would be the 40th anniversary of the signing of China-Japan Treaty of Peace and Friendship. These two years would be worthy of commemorating. He said a peaceful and stable cooperative relationship between China and Japan was not only in line with the fundamental interests of our two countries and peoples but also needed to secure peace and development in Asia. He hoped the Japanese side could properly handle the difficulties and problems between China and Japan, and promoted a sound and stable development of this bilateral relationship in accordance with the four political documents. Vice-president Okamoto Masayuki said the association would love to work with CAIFC and continue promoting understanding and friendship between our two peoples. The delegation visited Beijing, Xin Jiang, and etc.
CAIFC Executive Council Member Gao Rongzhu was present during the meeting.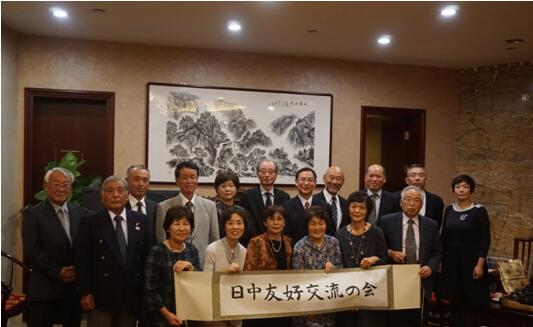 Vice-president Xin Qi with the delegation