On Oct. 11th, CAIFC-sponsored public benefit concert performed by Russian Tula Oblast "Pleasure" Chorus Group was held at Forbidden City Concert Hall in Beijing. Ambassadors and top diplomats from Russia, India, Thailand, Tajikistan as well as other countries attended the concert upon invitation.
Vice-president Deng Rong met with lieutenant governor Fedorishchev and the "Pleasure" Chorus. Madam Deng said due to the strategic guidance of President Xi Jinping and President Putin, China-Russia comprehensive strategic partnership maintained good momentum and was developing on a sound and stable track; cultural and art exchanges as well as regional cooperation were important component parts of Sino-Russian relations. She said that CAIFC would continue serve as the ambassador of good will and bond to promote our peoples' friendship, and would further intensify mutually beneficial cooperation between the Chinese side and the Tula Oblast in the fields such as economy, trade, culture, education, and etc. lieutenant governor Fedorishchev expressed gratitude to CAIFC for coordinating Tula's "Pleasure" Chorus performance, and would love to promote pragmatic cooperation with CAIFC to make greater contribution to Sino-Russian relations.
Secretary General Li Haoyu was present during the meeting.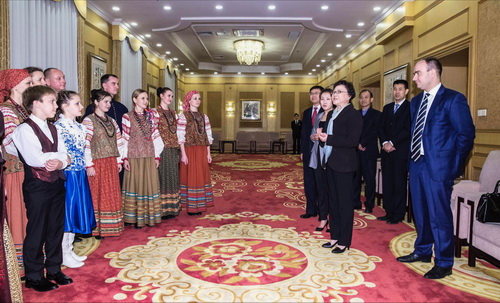 Vice-president Deng Rong meets with lieutenant governor Fedorishchev and the "Pleasure" Chorus Group.