From September 3rd to 9th, Xin Qi, vice chairman of the China Association for International Friendly Contact (CAIFC), led a delegation to visit Japan, where the delegation met with the Japanese Foreign Minister Taro Kono andthe Okinawa Governor Takeshi Onaga. The two sides exchanged in-depth views on how to promote Sino-Japanese relations and strengthen friendly exchanges.
Vice-chairman Xin said at the meeting that history and reality have fully proved that China and Japan "will benefit from peace and lose from confrontation".Now Sino-Japanese relations are still faced with difficulties, but the two sides have the desire to improve. The CAIFCis willing to work with all walks of life in Japan to improve and develop Sino-Japanese relations. Minister Kono said that he would like to continue to support and participate in exchanges in various fields between the two countries and promote the development of Sino-Japanese relations. Governor Onaga said that this year marks the 20th anniversary of the establishment of friendly relations between Okinawa and Fujian Province and that he would continue to promote economic and cultural exchanges with Fujian and the rest of China.
Ren Shuangjie,deputy secretary general of the CAIFC, also visited with the delegation.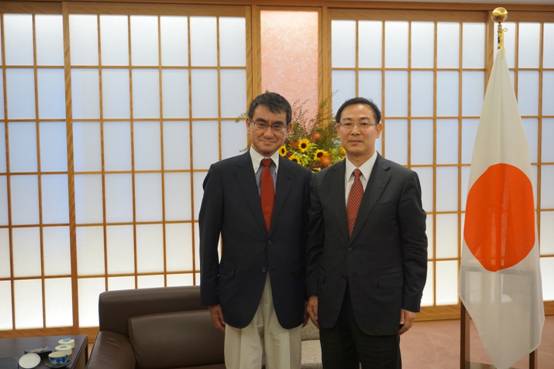 Meeting Foreign Minister Taro Kono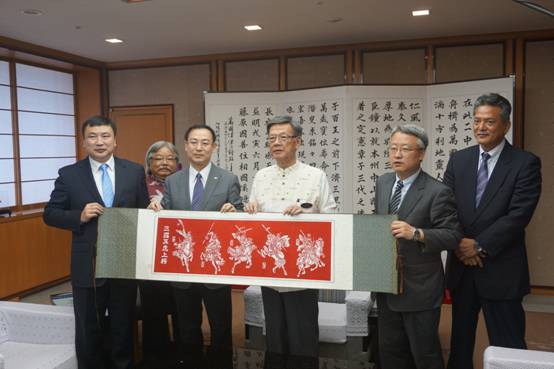 Meeting Okinawa Governor Takeshi Onaga