On June 6th, Li Zhaoxing, chairman of the China Association for International Friendly Contact (CAIFC), met in the Diaoyutai State Guesthouse with the 66th Narcissus Delegation led by Eddie Flores, president of the Chinese Chamber of Commerce of Hawaii (CCCH).
Chairman Li said that Hawaii and China have deep historical connections as Sun Yat-sen, a great Chinese revolutionary, used to study in Hawaii and his revolutionary career was strongly supported by the local people and especially the overseas Chinese in Hawaii then. There were many other cases of successful cooperation between China and the US in history. During World War II, American soldiers involved in the construction of the Burma Road and organized the "Flying Tigers" to fight against Japan. Many Americans lost their lives in the fight. Their contributions will always stay in the minds of the two peoples. This year marks the 70th anniversary of the victory in the Anti-Japanese War and the World Anti-Fascist War. As the two most influential powers in the world, China and the US expect deeper and closer cooperation at this new starting point. Chairman Li spoke highly of the positive contributions that the CCCH made to promoting Sino-US non-governmental friendly exchanges and cooperation and hoped that the CCCH would continue to play a positive role in promoting the friendship and trust between the two peoples. He indicated that the CAIFC would like to offer necessary assistance for that purpose.
President Eddie Flores said that the Chinese people and the American people fought hand in hand against the enemies and gave each other selfless support during World War II. Many of the pilots engaged in the "Doolittle Raid" to attack Tokyo survived due to the rescue of the Chinese people. Because historical events like that are rarely known today, the CCCH is working with relevant organizations in the US to hold exhibitions on the Sino-US cooperation in wars, so that more people can understand and remember the history. The CCCH will further play to its strengths to create more cultural exchange projects between the two countries.
Li Haoyu, secretary-general of the CAIFC, was present at the meeting.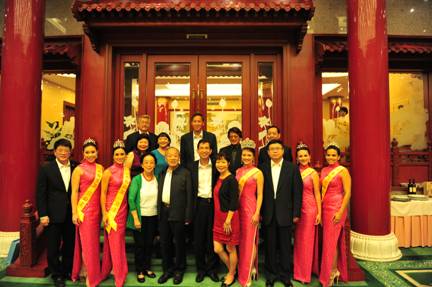 A group photo of Chairman Li Zhaoxing and the delegation