From April 11th to 19th, China Association for International Friendly Contact (CAIFC) received Byron Dorgan and other two former US senators, who came to visit Beijing and Xi'an.
Zhao Bo, vice chairman of the CAIFC, met with the delegation at the Diaoyutai State Guesthouse. He introduced the basic situation of the CAIFC and its contributions to promoting Sino-US non-governmental friendly exchanges. Vice-chairman Zhao said that: China and the US are the world's largest developing country and the largest developed country, respectively; good Sino-US relations are conducive to peace, stability and prosperity in the world. He said that China would unswervingly take the road of peaceful development and deepen its participation in various international systems, which is consistent with the interests of the US. He hoped that the senators could visit more places in China to have a deep understanding of China and offer more positive suggestions for the development of Sino-US relations. The foreign guests indicated that China's economy has developed in leaps and bounds over the past few decades and has even surpassed the US in many ways. China is generally poorly understood in the US, and there are even some misunderstandings and prejudices against China. The senators expressed their willingness to play an active role in promoting mutual understanding and friendship between the two peoples. Li Haoyu, secretary general of the CAIFC, was also present at the meeting.
The delegation also met with officials from the National People's Congress, the Ministry of Foreign Affairs of the PRC, Bo'ao Forum for Asia, and Xi'an Municipal Government. The senators had an informal discussion with experts of the Peace and Development Research Center of the CAIFC, visited Xi'an High-tech Development Zone, and communicated with students of Xi'an Shiyou University.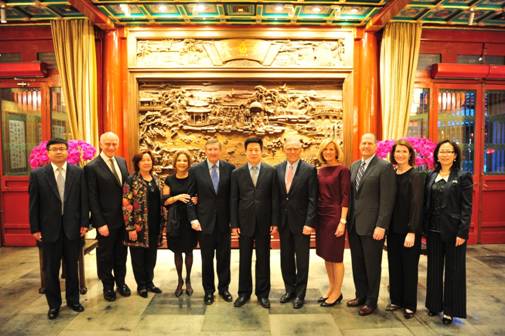 Vice-chairman Zhao Bo meeting with the delegation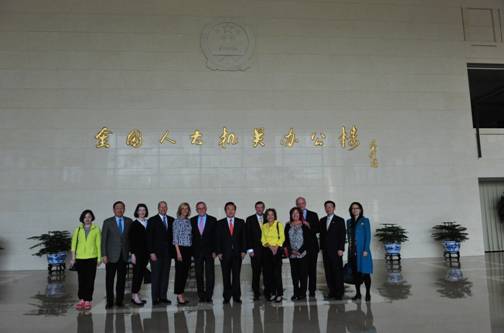 Cao Weizhou, deputy secretary general of National People's Congress, meeting with the delegation
Zhou Wenchong, secretary general of Bo'ao Forum for Asia, having a dinner meeting with the delegation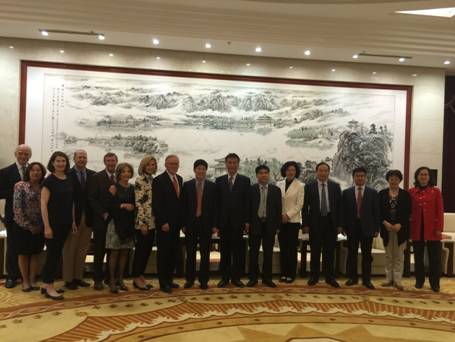 Yue Huafeng, executive deputy mayor of Xi'an, meeting with the delegation