On April 8th, He Liliang, a consultant of the China Association for International Friendly Contact (CAIFC), met with the delegation of Haguei Association from the U.S.
Consultant He Liliang recalled the exchanges between both sides over the past three decades with Dr. Haguei, leader of the delegation. Consultant He said that Dr. Haguei has visited China for 45 times and positively introduced to the American people the real situation of China's economic and social development and particularly the great progress that China has made in the religious sphere. He is an old friend who truly understands China. Consultant He also indicated that China will need more friends who understand China and are as dedicated to Sino-US friendship as Dr. Haguei as it gets more and more attention from the world. Dr. Hagueisaid that he visited China not out of curiosity or for fame and fortune, but for his deep affection for the country and people here. He further noted that the Chinese and American peoples need to communicate and learn from each other a lot and that he would continue to try his best to allow the American people to understand the real China.
Zhou Xinzheng, Deputy Secretary-General of the CAIFC, attended the meeting.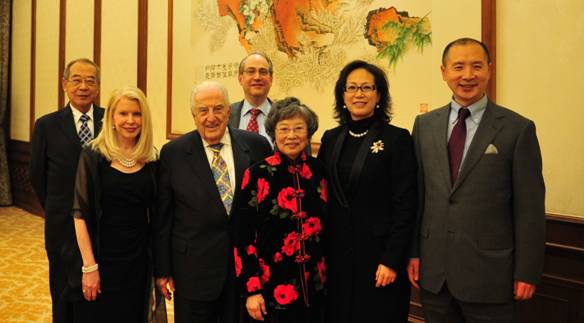 A group photo of both sides