On March 22nd, Xu Kuangdi, honorary chairman of the China Association for International Friendly Contact (CAIFC), and Deng Rong, vice chairwoman of the CAIFC, met with Oleg Deripaska, president of UC RUSAL, who came to China for the China Development Forum.
Honorary chairman Xu welcomed the arrival of Deripaska and spoke highly of his positive efforts and contributions to promote the Sino-Russian economic and trade cooperation and exchanges in arts and humanities. He noted that the Sino-Russian relations are now better than ever before as both countries fully strengthen their cooperation in energy resources, mechanical and electrical equipment, and high-tech areas. He hoped that Deripaska and the industry circle in Russia can make greater achievements from their cooperation with China. Vice chairwoman Deng Rong stressed that China and Russia are highly complementary in economy and have broad prospects in trade and economic cooperation. She said that the CAIFC would like to play a positive role in promoting Sino-Russian cooperation. Deripaska said that the Russian side expects to further strengthen the cooperation with the CAIFC under the current international situation to promote the implementation of industrial cooperation projects between both sides. The two sides also exchange in-depth views on issues of common concern, including the crisis in Ukraine.
Li Haoyu, secretary-general of the CAIFC, also attended the meeting.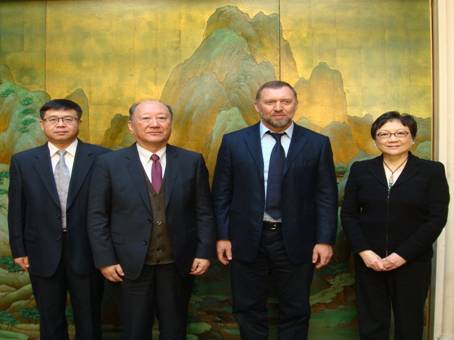 A group photo with the Russian Guests