On January 6th, 2015, the awarding ceremony of "2014 Kiriyama Education Foundation" was held at Beijing Foreign Studies University (BFSU). Zhou Xinzheng, deputy secretary-general of the China Association for International Friendly Contact (CAIFC), attended the ceremony and delivered a speech.
Started from 2007, "Kiriyama Education Foundation" at BFSU was a public interest project initiated and sponsored by the Japanese Agon Shu under the support and push of the CAIFC. The project awards excellent teachers and teachers in the Japanese Department and Beijing Centre for Japanese Studies. There were 39 teachers and students who were awarded this year.
Deputy secretary-general Zhou presented the prizes and certificates to the awarded teachers and students and spoke highly of the efforts that Agon Shu and its leader Seiyu Kiriyama have made for Sino-Japanese friendship over the years. He encouraged the awarded teachers and students to have a firm belief in Sino-Japanese friendship and to promote the health and stable development of the bilateral relations.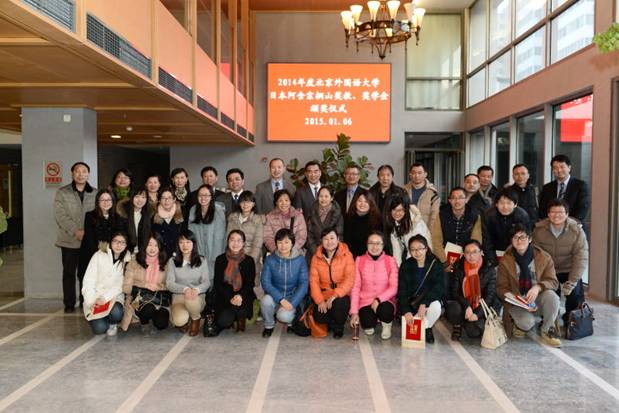 A group photo of Deputy Secretary-general Zhou and the awarded teachers and students