On November 23rd, Li Zhaoxing, chairman of the China Association for International Friendly Contact (CAIFC), met with Braqin, former Thai Prime Minister and director of the Thai-Chinese Culture and Economy Association (TCCEA), in Beijing.
Chairman Li first extended his warm welcome to the old friend. He happily recalled his friendly cooperation with the Thai friends in important international and regional affairs when he worked in the United Nations and served as the foreign minister of China. Chairman Li pointed out that China will unswervingly follow the road of peaceful development, which is the inevitable choice that China makes based on its national conditions, historical and cultural traditions, the basic theory and experience of the Chinese Communist Party, and the current development trend of the world. The Sino-Thai relations have become a model of equality, mutual benefit and cooperation, and peaceful coexistence between two countries adopting different social systems. Chairman Li said that the next year marks the 40th anniversary of the establishment of diplomatic ties between China and Thailand and the CAIFC is willing to work with TCCEA in making use of the unique advantages of non-governmental diplomacy, strengthening pragmatic cooperation, and promoting further development of bilateral relations.
Braqin congratulated on the success of the APEC summit held by China. He said that Thailand and China are close as members of a family. Thailand and most of other ASEAN countries deeply feel the sincerity of the "closeness, faith, benefit, and tolerance" of the neighboring diplomacy suggested by Chairman Xi Jinping. The Thai guests are ready to seize the opportunity and will continue to maintain close cooperation with the CAIFC to constantly enhance mutual trust and deepen the friendship.
Zhou Xinzheng, deputy secretary-general of the CAIFC, and Sun Hongming, vice chairman of Xiamen Association for International Friendly Contact, accompanied at the meeting.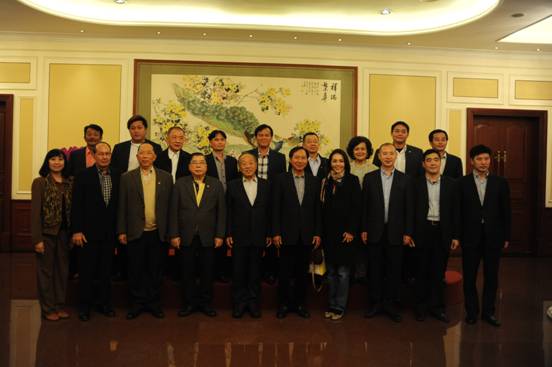 A group photo of Chairman Li Zhaoxing with the delegation