On October 22nd, Li Zhaoxing, chairman of the China Association for International Friendly Contact (CAIFC), met with a delegation led by Don Tuan Phong, vice-president of Vietnam Union of Friendship Organizations (VUFO), in Beijing.
Chairman Li first expressed warm welcome to the coming of the delegation. He pointed out that China and Vietnam are close neighbors and the two parties and two peoples have established a profound traditional friendship over the long revolutionary struggle and the cause of nation-building through mutual support and assistance. In recent years, high-level contacts have been frequent, pragmatic cooperation in various fields is deepening, and historical issues have been solved gradually. China is willing to make joint efforts with Vietnam to earnestly implement the consensus reached by top leaders of both sides and promote sustained, healthy and stable development of China-Vietnam relations. Chairman Li stressed that amity between people holds the key to sound relations between states. CAIFC is willing to work with its counterpart in Vietnam to further Sino-Vietnamese non-governmental exchanges, enhance mutual understanding and trust between the two peoples, and carry forward the traditional friendship between China and Vietnam as "comrades and brothers".
Vice-president Don Tuan Phong thanked Chairman Li for meeting the delegation. He said that the profound relationship established by the older generation of leaders in both countries laid a firm foundation for the long-standing friendship between the two parties and two peoples. Vietnamese people will never forget the support and assistance China provided in the anti-imperialist struggle in Vietnam. He said that a close neighbor is better than a brother far off. The rapid development of China will benefit Vietnam and other neighboring countries. The VUFO is willing to work together with the CAFIC to further strengthen the friendly exchanges between the two peoples and promote the development of friendly relations between Vietnam and China.
Wang Wei, deputy secretary-general of the CAIFC, was present at the meeting.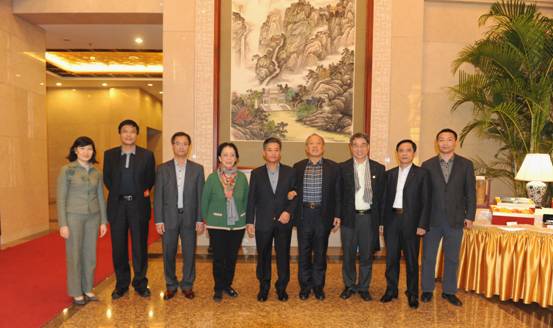 A photo of Chairman Li Zhaoxing with the delegation