On October 14th, Xin Qi, vice-chairman of the China Association for International Friendly Contact (CAIFC) met with Song Young-Gil, former South Korean congressman and former mayor of Incheon Metropolitan City, in Diaoyutai State Guesthouse.
Vice-chairman Xin pointed out that China and South Korea are deeply influenced by Confucian culture and share similar cultural traditions as both of them are part of the cultural cycle of Chinese characters. The two countries have made fruitful achievements from the cooperation in various fields since the establishment of diplomatic relations 22 years ago. In this July, Chairman Xi and President Park Geun-hye held a successful summit meeting, elevating the partnership of the two countries to a higher level. Vice-chairman Xin stressed that both China and South Korea suffered the Japanese militarist aggression and this common experience put the two countries into a common responsibility for maintaining international order after World War II and maintaining the peace, stability and prosperity in Northeast Asia.
Song Young-Gil strongly agrees with the views expressed by Vice-chairman Xin and believed that China is the most important neighbor of South Korea. The ROK-Chinese friendship is in the interests of both countries. Taking the example of Zheng He, who traveled to the west for 28 years but not occupied any colony, Song Young-Gil pointed out that the traditional Chinese culture attaches great importance to the thought of "harmony". The rapid development of China now is beneficial to the development of the region and the world.
Deng Wenqing, secretary-general of the CAIFC, was present at the meeting.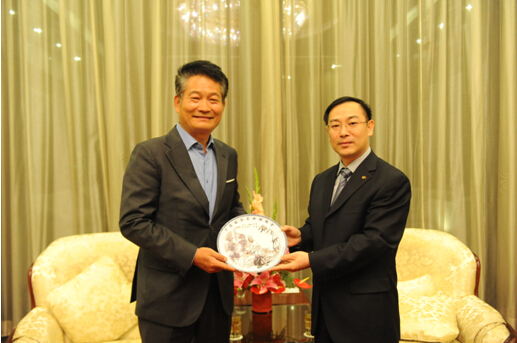 Vice-chairman Xin Meeting with Song Young-Gil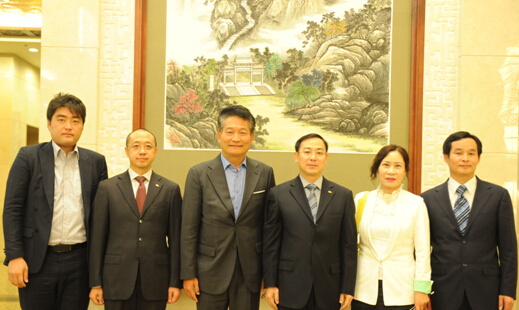 A group photo of both sides