On September 23rd, Li Zhaoxing, chairman of the China Association for International Friendly Contact (CAIFC), met with a delegation led by Park Jin, a former South Korean congressman, in Beijing.
Chairman Li pointed out that China and South Korea have made remarkable achievements in various fields since the establishment of diplomatic relations 22 years ago and have become a model of friendly relations between countries with different social systems. In this July, Chairman Xi and President Park Geun-hye held a successful summit meeting, opening a new chapter in bilateral relations and sketching out a promising blueprint for closer China-ROK friendly relations. Chairman Li said that peoples in China and South Korea worship Confucius and Mencius thoughts and are peace-loving and friendly to neighbors as both of them are part of the Confucian heritage culture. The two people have been good neighbors, good friends, and good partners that get along with each other equally since ancient times. In the future, China will continue to pursue an independent foreign policy of peace and develop China-ROK relations into a closer community of shared destiny and responsibilities with the ROK. Chairman Li stressed that amity between peoples holds the key to sound relations between states. Civil diplomacy plays an irreplaceable role in the development of bilateral relations, and Chairman Li spoke highly of Mr. Park Jin's commitment to the cause of Sino-ROK friendly relations after he retired as a congressman. Park Jin highly agreed with the views of Chairman Li and expressed his willingness to cooperate with the CAIFC to strengthen cooperation and make more contributions to China-ROK friendship at non-governmental level.
Wang Wei, deputy secretary-general of the CAIFC, was present at the meeting.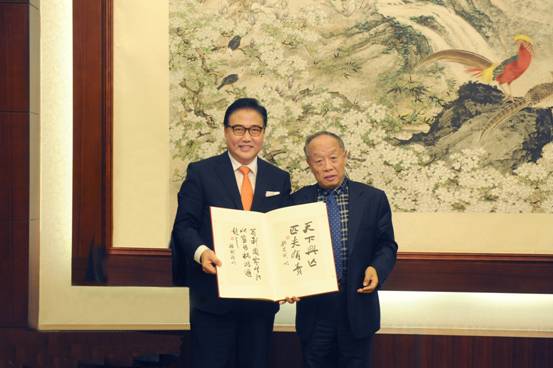 A photo of Chairman Li and Park Jin