On September 5th, the China Association for International Friendly Contact (CAIFC) held a commemorative activity for the 35th anniversary of Sino-US diplomatic relationsjointly with the magazine "Caijing". Nearly 50 participants and witnesses of the establishment of Sino-US diplomatic relations, such asJimmy Carter,former vice president of the United States, and Deng Rong, vice-chairwoman of the CAIFC, attended the event.
Vice-chairwoman Deng Rong said that her father Deng Xiaoping visited the U.S. 35 years ago and made ​​the important world-changing decision of establishing Sino-US diplomatic relations with President Carter. The two leaders therefore forged a profound friendship andleft many great, nice and warm moments. This year marks the 110thbirthday of Deng Xiaoping.The current hit TV series "Deng Xiaoping in the Historical Turn" allowed many people to revisit this important historical period and further consolidate the public foundation for China and the U.S. to build a new pattern of relations between big powers.
Carter said he was glad to make the major decision that changed the fates of the Chinese and the American people with Mr. Deng Xiaoping. The charm of Deng Xiaoping not only won the trust of their family, but also greatly changed the American public's views on China. In this event, he met many old friends who played a key role in the establishment of Sino-US diplomatic relations. They reflected on the past in the light of the present as enthusiastically as ever and further strengthened the confidence in the cause of Sino-US friendship.
Wang Wei,deputy secretary-general of the CAIFC, attended the event.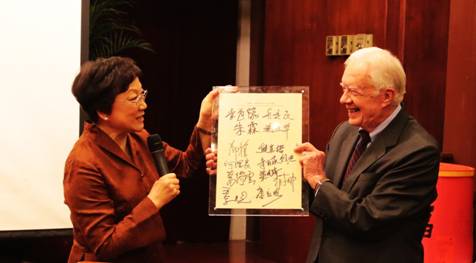 Vice-chairwoman Deng Rong sending a gift to President Carter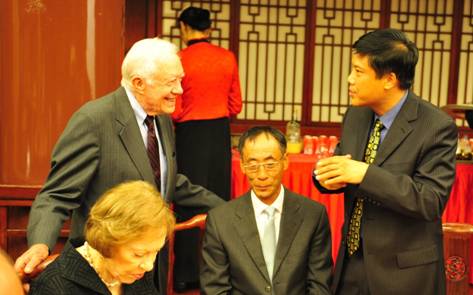 Deputy secretary-general Wang Wei talking cordially with President Carter