On September 4th, Deng Rong, vice-chairwoman of the China Association for International Friendly Contact (CAIFC), met with a delegation led by Sadovnichii,President of the MoscowUniversity, in Beijing.
Vice-chairwoman Deng Ronghappily recalled the exchange history between the CAIFC and MoscowUniversity with President Sadovnichii and spoke highly of the positive contributions that Sadovnichii made to the friendship and cultural exchanges between China and Russia. She also sent Biography of Deng Xiaoping, Chronicle of Deng Xiaoping, and Deng Xiaoping Thought Series to Sadovnichii.Sadovnichii appreciated the far-reaching influence of the reform and opening initiated by Deng Xiaoping onthe world peace and development. He said thatMoscowUniversity will further deepen the cooperation with the CAIFC to make more contributions to Sino-Russian friendship. The two sides also discussed on international and regional issues of common concern and agreed that it is of great significance to promote the further development of Sino-Russian relations under the current complicated international context.
Deng Wenqing, deputy secretary-general of the CAIFC, attended the meeting.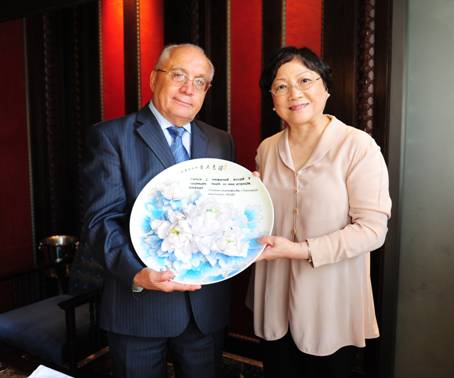 Vice-chairwoman Deng Rong exchanging gifts with President Sadovnichii