On July 26th, Li Zhaoxing, chairman of the China Association for International Friendly Contact (CAIFC), met with a delegation led by Dr. Somkid, former deputy prime minister of Thailand and consultant of "National Committee to Maintain Peaceful Order".
Chairman Li first expressed warm welcome to the delegation. He pointed out that China and Thailand are members of a family and the two peoples supported and helped each other in different historical periods, playing an active role in promoting the development of Sino-Thai relations and maintaining regional stability. The sustained stability and development of Thailand not only conforms to the fundamental and long-term interests of the Thai people, but also contributes to the stability and prosperity of ASEAN and the region. He hoped that the Thai people from all walks of life can base on national interests to strengthen dialogue and consultation and to handle relevant issues properly.
Somkid expressed thanks to Chairman Li for taking the time to meet them. He said that the impressive achievements of China in the reform and opening up once again prove that the development model of China is scientific and effective and is of reference significance to Asian countries, including Thailand. Somkid gladly recalled the exchanges with the CAIFC when he served as president of Thailand-China Cultural and Economic Association and expressed his willingness to strengthen cooperation with the CAIFC to promote the further development of the Thai-Chinese relations. The two sides also exchanged views on international and regional issues of common concern.
Zhou Xinzheng, deputy secretary-general of the CAIFC, attended the meeting.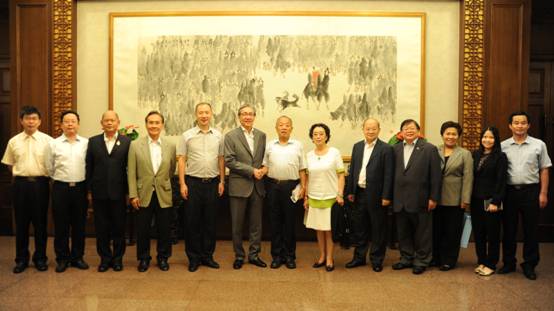 A group photo with the delegation