On June 23rd, Li Zhaoxing, chairman of the China Association for International Friendly Contact (CAIFC), met with a delegation led by Ivanov, director of Russian International Affairs Council, former secretary of Security Council, and former Russian foreign minister in Beijing.
Chairman Li first extended a warm welcome to the old friends, and then happily recalled the cooperation and interaction between the two sides on major issues while Ivanov and he were serving as foreign ministers in their respective countries. He spoke highly of the important contributions Ivanov has made to promote the development of China-Russia comprehensive strategic cooperative partnership, and hoped that CAIFC will work with Russian International Affairs Council to give full play to the unique role of civil diplomacy in promoting friendly exchanges between the two peoples, enhancing mutual trust, and deepening friendship.
Ivanov said that he valued the experiencing of working with Chairman Li in witnessing the rapid development of bilateral relations, and he was convinced that the friendship between China and Russia will continue to flourish under the strong push of the two leaders and all sectors of society. He expressed his willing to make joint efforts with the CAIFC to strengthen bilateral cooperation in various fields. The two sides also exchanged views on international and regional issues of common concern.
Wang Wei, deputy secretary-general of the CAIFC, accompanied in the meeting.
Chairman Li discussing with Ivanov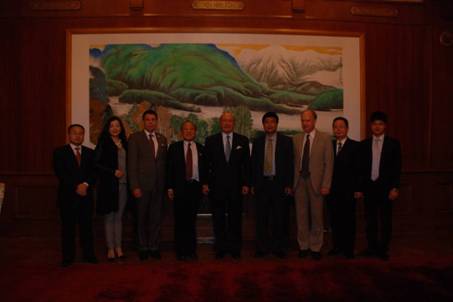 A group photo with the delegation