From February 9th to 16th, Zhao Bo, vice-chairman of the China Association for International Friendly Contact (CAIFC), led a delegation of the CAIFC to pay friendly visits to Japan and South Korea upon invitation.
During the stay in Japan, the delegation attended the 41st "Star Festival" of Agon Shu in Kyoto and had a cordial talk with Seiyu Kiriyama, founder of Agon Shu. The delegation also went to meet some of the Japanese friendly organizations and figures in Tokyo and talked with them over the current Sino-Japanese relations and mutual annual exchange programs. Both sides agreed that strengthening civil and cultural exchanges between the two countries is of importance to stabilizing and restoring the bilateral relationships under the current context when the Sino-Japanese relations run into difficulties. They realize that the next step is to strengthen cooperation and make greater contributions to the development of bilateral relations.
During the stay in South Korea, the delegation met some of the friendly figures there and held a working talk with the International Security Exchange Association of South Korea. Both sides reached consensus on further closer cooperation and jointly promoting the development of friendly relations between China and South Korea.
Zhou Xinzheng, deputy secretary-general of the CAIFC, accompanied in the visits.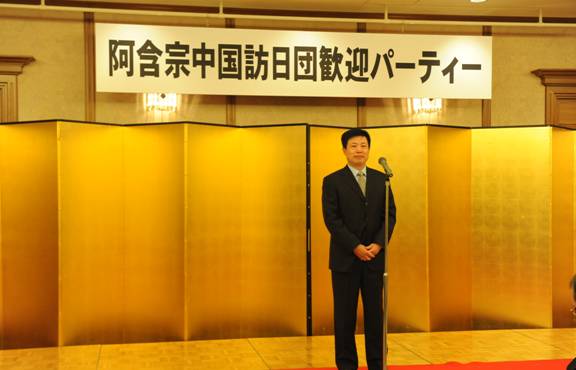 Vice-chairman Zhao Bo delivering a speech at the welcoming ceremony of Agon Shu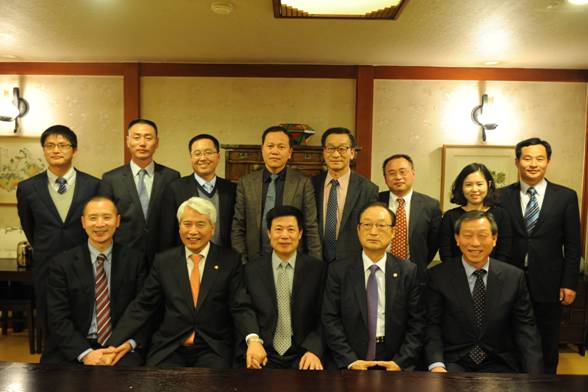 Meeting with South Korean lawmakers Song Yeong-geun and Baek Gun-gi