The China Association for International Friendly Contact (CAIFC) held "Beautiful Shanxi· Kilns in Shanxi --- Special Exhibition of Ancient Ceramics in Shanxi China" together with the China Arts Foundation Beijing (CAFB) and the Propaganda Department of Shenzhen Municipal Committee from November 23rd to December 3rd. Li Xiaohua, vice-chairman of the CAIFC, attended the opening ceremony and delivered a speech. Vice-chairman Li spoke highly of the positive efforts that the CAFB has made to promote the non-governmental cultural exchanges. He indicated that the CAIFC will work with people with lofty ideals to make due contributions to promoting the Chinese culture. Liu Jing, chairman of China Association for Friendship, Liu Changle, Chairman and Chief Executive Officer of the Phoenix TV, Dong Baohua, deputy director of the State Administration of Cultural Heritage, Geng Baochang, vice-chairman of the Palace Museum, Zhang Ruipeng, director of the Department of Cultural Affairs of Shanxi Province, Wang Lixin, director of New Hualong District in Shenzhen, and Ren Zhilu, president of Shenzhen Institute of Archaeology attended the opening ceremony.
More than 130 pieces (sets) of precious cultural relics were displayed on this exhibition, and they ran throughout Song, Jin, Yuan, Ming and Qing Dynasties, covering many kiln sites that range from Datong Kiln, Huairen Kiln, Jiexiu Kiln, Huozhou Kiln, and Changzhi Kiln from north to south. They reproduced the whole picture of the thriving ceramics industry in Shanxi in the 12th-19th centuries. Through this exhibition, visitors could savor again the temperature of the kilns left after thousands of years, feel the intelligence and diligence of ancestors, and face the cultural intangible heritage that the diligent craftsmen who worked beside the kilns in Shanxi have left for later generations after thousands of years.
Director Gao Jing in the Board of Directors of the CAIFC was present at the exhibition.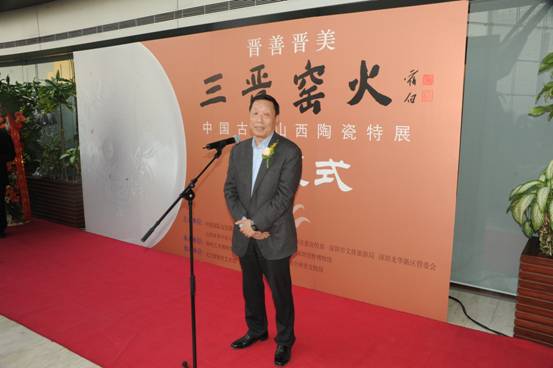 Vice-chairman Li Xiaohua delivering a speech at the opening ceremony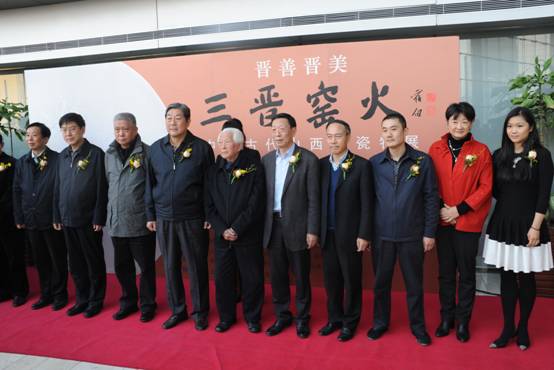 A group photo taken by the distinguished guests