On November 2nd, Li Zhaoxing, chairman of the China Association for International Friendly Contact (CAIFC), met with a delegation led byBraqin, former chairman of Thai congress and director of Thai-Chinese Culture and Economy Association (TCCEA), in Beijing.
Chairman Li first happily recalled the meeting he had with Braqin in Thailand this August. He indicated that the two peoples maintain close contact like relatives and the friendliness of the Thai people has won the favor of many Chinese people. Historically, Thailand did not become a colony of Western powers and has always maintained friendly relations with neighboring countries. The wisdom of Thai people is worthy of admiration. In recent years, the trade and economic cooperation of the two countries has developed rapidly, and they keep close communication on regional issues and maintain mutual trust and understanding. The bilateral relations between China and Thailand are a model for the relations between China and other ASEAN countries. Chairman Li hoped that the TCCEA can give full play to its own advantages and influence under the leadership of DirectorBraqin, who can call on all circles in the Thai society to contribute more to the Sino-Thai friendship and protect the hard-won good environment for peace and development in the region.
DirectorBraqinthanked Chairman Li for taking time to meet with the delegation. He said that the Thai and Chinese peoples are closely interrelated in blood, culture and customs. China always offers selfless assistance to Thailand when it is in time of need. Just because of the kinship emotional foundation, the two governments can take the lead in launching cooperation in many areas and move the bilateral relations forward more steadily and farther. This year is the 20th anniversary of the TCCEA, and the Thai side will take it as an opportunity to further strengthen the cooperation with the CAIFC and will continue to broaden the bridges for exchanges between the two countries.
Deng Wenqing, vice secretary-general of the CAIFC, was present at the activity.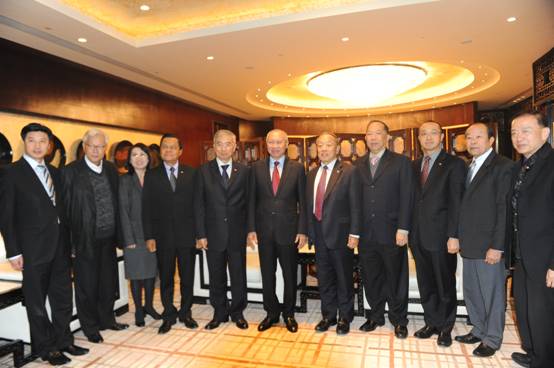 A group photo taken by Chairman Li and major members of the delegation