On October 31st, Lu Yongxiang, vice-chairman of the Standing Committee of the 10th and 11th National People's Congress of China, met with a 26-people delegation of student leaders from Tanzania at the Great Hall of the People. This delegation was headed by James Bwana, an official from the Tanzanian Department of Foreign Affairs, and the members were student leaders from more than twenty universities in Tanzania.
Vice-chairman Lu first welcomed the student leaders for visiting China upon the invitation of the China Association for International Friendly Contact (CAIFC). He said that he led a CAIFC delegation to visit Tanzania this May and was warmly welcomed and received by the Tanzanian side. As a result of bilateral cooperation, he believed that the delegation's visit would further promote the mutual understanding and friendship between the two countries, especially between their young people, to pass on the "all-weather" friendship that has been built by the successive leaders of the two countries. Chairman Xi Jinping chose Africa and Tanzania as his first destination in his first visit this March, which fully reflected the great importance that China attaches to Sino-African and Sino-Tanzanian relations. For a long time the high-level leaders of both countries have maintained close contact with each other and the mutual political trust has been increased. They provide mutual support to each other on the core interests and major concerns, and their cooperation and exchanges in economy, trade, culture, education, health and other fields have been fruitful. He said that youth is the hope of Tanzania, but also the future and hope of Sino-Tanzanian relations. He expected to make friends in China and would tell his experience in China to his relatives and friends after returning home. He hoped to play a greater role in promoting mutual understanding between the Chinese and Tanzanian peoples.
The head of the delegation noted that Vice-chairman Lu's remarks are an affectionate recall of the history of exchanges between Tanzania and China and are full of affection and expectations for the Tanzanian people and young students. All the delegation members were deeply moved and felt warm. They will live up to the expectations and make contributions to the continuous development of Sino-Tanzanian relations. He thanked the CAIFC for its invitation and thoughtful arrangements, and he expressed his willingness to work with the CAIFC in carrying forward the Sino-Tanzanian friendship laid by the older generation of leaders of the two countries.
Deng Wenqing, vice secretary-general of the CAIFC, was present at the meeting.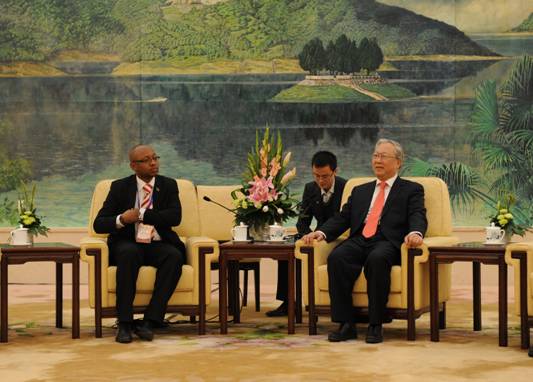 A photo of Vice-chairman Lu with James Bwana, head of the delegation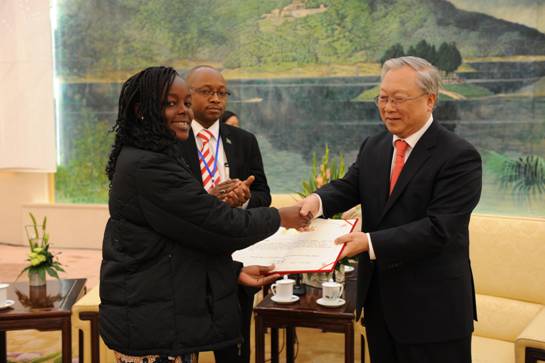 Vice-chairman Lu presenting a certificate to representative of the student leaders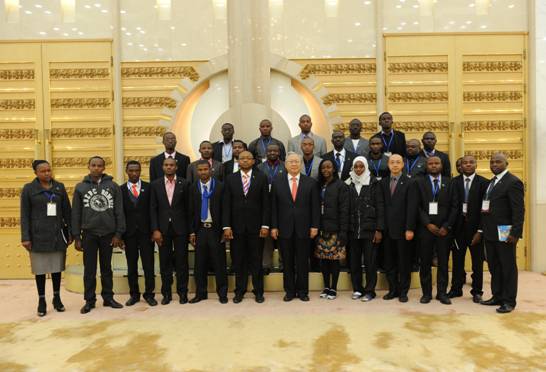 A photo of Vice-chairman Lu with the delegation of student leaders from Tanzania