On October 30th, 2013, Zhao Nanqi, former vice-chairman of the CPPCC and senior consultant of the China Association for International Friendly Contact (CAIFC), met with Kwon Young-se, South Korean Ambassador to China, at the Diaoyutai State Guesthouse.
Vice-chairman Zhao said that the relations between China and South Korea has developed rapidly in the political, economic and cultural fields since they established diplomatic ties 21 years ago, and these bilateral relations can be a model for the relation development of any other two countries. In the economic and trade field alone, the volume of trade was only 5 billion dollars at the onset of the establishment of the diplomatic ties in 1992. However, it amounted to more than 250 billion dollars by 2020, up 50 times in merely 20 years. This growth was extremely rare in the exchange history of two countries. Now, the bilateral relations have maintained a good momentum of development, and the two countries share consistent stances in issues like maintaining regional stability and opposing the Japanese right deviation. Since this year, Chairman Xi Jinping and President of Park Geun-hye have successfully met twice, which laid a solid foundation for the strategic cooperative partnership between China and South Korea under the new situation. Vice-chairman Zhao believed that the bilateral relations of the two countries will achieve new and greater development during the tenure of Ambassador Kwon Young-se.
Ambassador Kwon Young-se thanked Vice-chairman Zhao for taking time to meet with him. He indicated that Vice-chairman Zhao is highly praised by the South Korean government and people for being an active promoter of China-ROK friendship and for his important contributions to the constant development of China-ROK relations. He wished Vice-chairman Zhao good health and said that he would continue to support the continuous development of bilateral relations between the two countries.
Ambassador Kwon Young-se said that over the years the CAIFC has made many practical efforts to deepen the development of China-ROK friendship and strengthen the economic, trade, cultural and civil friendly exchanges between the two countries. He indicated that in the future the South Korean Embassy in China is willing to continue to work closely with the CAIFC to lead the China-ROK strategic cooperative partnership to new development.
Minister Cheong Young-Rok, Defense Military Officer Kim Gwang Jin, Counsellor Bek Bumhym and other major embassy members were present at the meeting.
Deng Wenqing, vice secretary-general of the CAIFC, was present at the activity.
Vice-chairman Zhao Nanqi talking cordially with Ambassador Kwon Young-se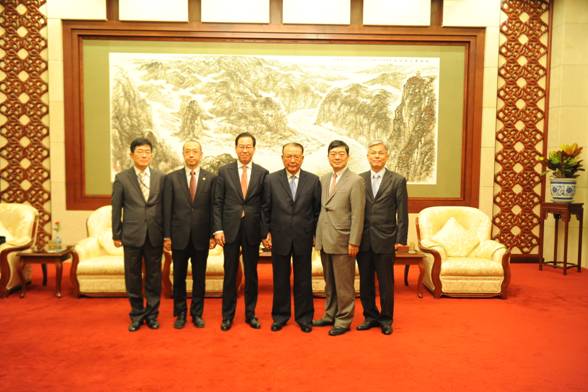 A group photo taken by Vice-chairman Zhao Nanqi with Ambassador Kwon Young-se and other major embassy members