On October 15th, Li Zhaoxing, chairman of the China Association for International Friendly Contact (CAIFC), together with his wife Qin Xiaomei, met with Hervé Ladsous, UN Deputy Secretary General and former French ambassador to China, at the Diaoyutai State Guesthouse. The two cheerfully sides renewed their friendship and had in-depth talks in a cordial, friendly and humorous atmosphere.
Chairman Li Zhaoxing noted that the current international situation is complicated and changeful and that, with regional hotspot issues popping up frequently, the world is not peaceful. The United Nations plays indispensable role in helping mediate conflicts and disputes and in safeguarding world peace. China and France, both as permanent members of the UN Security Council, should strengthen communication and coordination and add more positive energy to promote peace, stability and development in the world.
Chairman Li said that China and France have harvested rich fruits from bilateral exchanges and cooperation in various fields since they established diplomatic ties. He hoped that both sides can support each other, deepen cooperation, push the bilateral comprehensive strategic partnership to move forward and establish a model of two countries different in political systems and cultural traditions achieving a win-win result through cooperation.
Chairman Li disclosed that next year China and France will host a series of celebrations to memorize 50th anniversary of Sino-French diplomatic relations. The CAIFC, based on its own characteristics, will actively organize and participate in such activities.
Hervé Ladsous congratulated on the great achievements that China has made in economic and social development and spoke highly of the contributions that China has made to the international peacekeeping. He also expressed his willingness to continue to play an active role in promoting French-Sino friendship.
The two sides also exchanged views on international and regional hotspot issues such as the UN reform, the Korean Peninsula and Syria.
Hervé Ladsous is senior diplomat from France and his previous positions include French Deputy Ambassador to the United Nations, French Ambassador to Indonesia, Director of the News Department and Asian and Oceania Department of the French Diplomacy Ministry. Since October 2011, he has been the Deputy Secretary General in charge of international peacekeeping in the UN.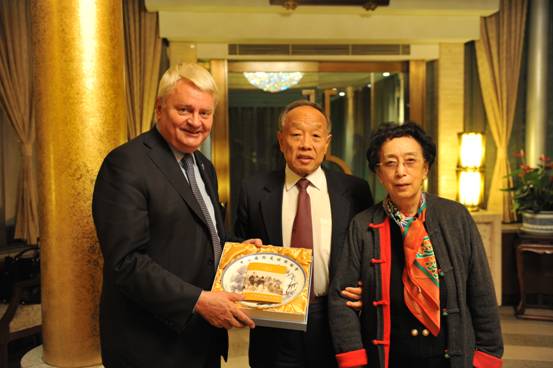 A group photo taken by Mr. and Mrs. Li with Mr. and Mrs. Hervé Ladsous