On September 27th, Li Zhaoxing, chairman of the China Association for International Friendly Contact (CAIFC), met with a delegation led by Lieutenant-general Lamb, former Commander of the Field Army at Land Command, and Venice, former Commissioner of Police in Great London, in Diaoyutai.
Chairman Li Zhaoxing indicated that currently the Sino-British relations have overcome interference and have stepped into a new stage of development and that political mutual trust is the prerequisite for the healthy development of Sino-British relations and also the guarantee to carry out smooth cooperation. He hoped that the two sides can respect each other's core interests and major concerns, enhance mutual trust and push Sino-British relations forward on a healthy track.
Chairman Li said that the Sino-British senior retired general exchange has become more and more influential since its inception in 2011 and that it is playing an increasingly prominent role in enhancing mutual understanding and friendship between the two armies and the two countries. He said that the CAIFC will make joint efforts with the British side to make the exchange activities better and better.
The British guests said that China and the United Kingdom, as two major powers in the world and permanent members in the UN Security Council, share extensive common interests and assume common responsibility for safeguarding the world peace. They said that they are willing to make active contributions to the development of the bilateral and military-to-military relations through the activity of Sino-British senior retired general exchange.
The two sides also exchanged extensive and in-depth views on regional hot issues such as on the Korean Peninsula, Afghanistan, Iran and Syria.
Qin Xiaomei, wife of Chairman Li Zhaoxing, and Song Enlei, secretary-general of the CAIFC, were present at the meeting.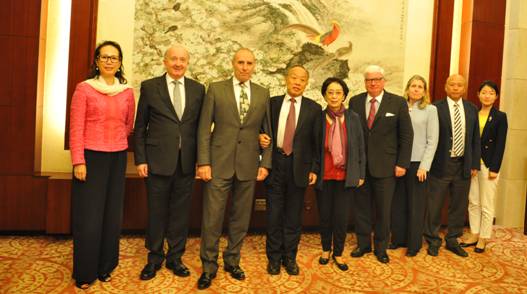 A photo taken by Mr. and Mrs. Li with the foreign guests