From September 1st to 9th, Liu Dawei, chairman of the Chinese Artists Association and director of the Art Committee of China Painting Academy for Friendly Contact (CPAFC), led a delegation of the CPAFC to visit Kazakhstan, Kyrgyzstan and Tajikistan. Calligraphers and painters such as Nima Zeren, Sun Zhijun, Wu Tuanliang, Shi Enzhao and Jiang Wei also visited these countries with the delegation.
The delegation met with top politicians including Roza Otunbayeva, former President of Kyrgyzstan separately and had discussions with Shikayev, curator of the National Museum of Plastic Arts and Taralat, chairman of the Artists Association of Kyrgyzstan and Rabiyev, president of Tajikistan Academy of Art. Liu Dawei and Nima Zeren were awarded as honorary fellows of Tajikistan Academy of Art. During the visit, the delegation also visited the national museums of those countries, had extensive exchanges with the friendly people there, and created works about local pastoral land and villages, showing the customs of those countries along the "One Belt One Road" in ink art. Their works carried forward the Chinese traditional arts and deepened mutual understanding and friendship with those countries.
Secretary-general Zhou Xinzheng and Deputy Secretary-general Gao Jing of the CAIFC were present at the events.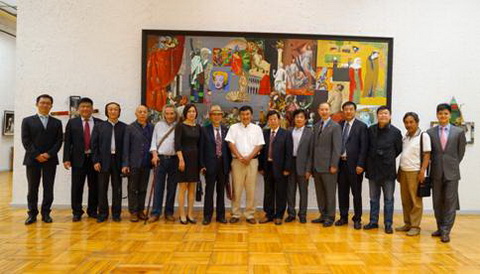 The delegation visiting the National Museum of Plastic Arts of Kyrgyzstan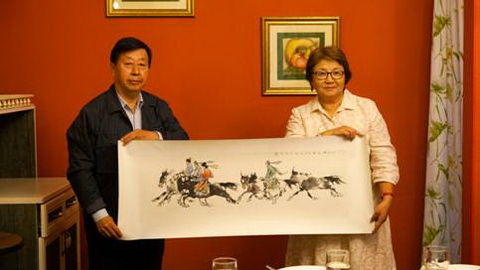 Chairman Liu Dawei sending a painting to former President Roza Otunbayeva as a gift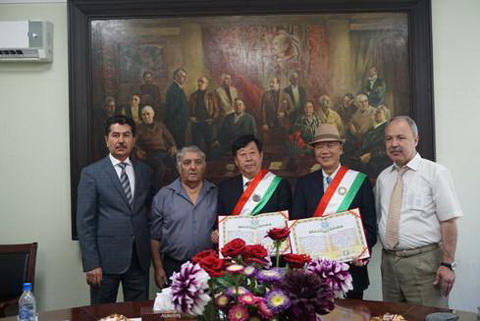 Liu Dawei and Nima Zeren awarded as honorary fellows of Tajikistan Academy of Art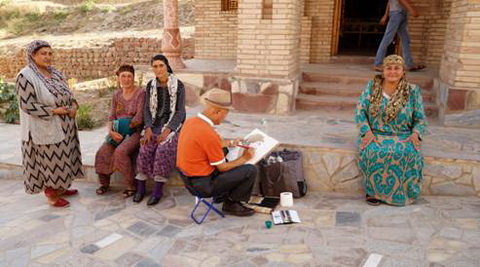 Artists of the CPAFC creating works about the localities